Butterley Garden Railway Association
---
A Very Wet Sunday in March 2017
I had volunteered to get to Butterley early this Sunday and had dragged Elliot along as well. The forecast was rain, rain then more rain, gradually getting heavier. They were wrong! It started torrential but then it got slightly better all day until eventually it was just drizzling. There was about a dozen people on the big railway, none of whom ventured down the yard in our direction. Phil turned up but wisely stayed indoors while we managed a few runs, got very wet and took some nice photos.
---
A little group of snow-drops near the back loop.
Tiny plants enjoying the rain.
I almost got this one right but the rain drops kept setting the camera's touch screen off.
Photos by John
Nicely trimmed trees (well done Mike).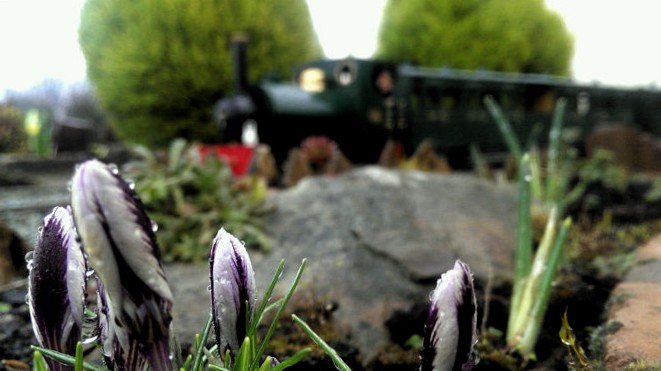 More snow-drops.
Different angle on the church.
This was a lovely flower that Elliot tried really hard to capture. (No idea what it is!)
Photos by Elliot