We have regular running sessions all year and the site is open every day other than Christmas Day.
---
Butterley Garden Railway
---
2019 Events
---
Next BGRA Committee Meeting delayed. New date TBC.
All members are welcome to attend and participate but only committee members may vote.
---
Saturday 1st June 2019.
Mamod Day. An open event for 16mm Association members and BGRA members. Everyone is invited and not only Mamod drivers. We also welcome static engines and other steam powered vehicles, Mamod or other types.
---
Saturday and Sunday 22nd & 23rd June 2019.
BGRA Open Weekend. We open the doors to the public and run all weekend. Traders, Plant Stall and other attractions.
Also member sales and other 2nd hand garden railway goodies. Members who want to sell things should get in touch with Norman.
---
Wednesday 10th July 2019.
Ripley's Big Day Out. A normal Wednesday Running Day but also Ripley Town Council's Big Day Out at Swanwick Junction. Trains are running on the big railway and it is a busy day with lots of visitors.
More details as we get them.
---
Sunday 11th August 2019.
Barbecue (for BGRA, 16mm Members and Guests) Rolls and salad provided, anything else is up to you, we have a gas-fired grill available. From 1PM, nearest and dearest welcome. A list will be put out purely so food quantity can be estimated.
---
Sunday 25th August 2019.
Loco Olympics (for BGRA, 16mm Members and Guests) A fun day with competitive events for your locomotives. Details of events and prizes will be published nearer to the day.
Photos of last year's competition. (Please note that the BBQ is on a different Sunday)
---
Wednesday 23rd October 2019.
Autumn Twilight Run. Our 2nd evening run for 2019. Running starts at 12.00. You can order Fish & Chips if you're here by 5.00 (Free for BGRA members). It should be dark before 6.00 and we can run as long as we like.
---
Sunday 8th December 2019.
Christmas Party (for BGRA Members ONLY) Commences at 3pm, food provided, nearest and dearest welcome. A list will be put out purely so food quantity can be estimated.
---
Future Event Date Unknown.
Tornado's visit in April 2018 was postponed due to the failure of Tornado at Peterborough but they have promised to visit later. If this happens then the BGRA will support the event.
---
We also support shows and exhibitions whenever possible.
---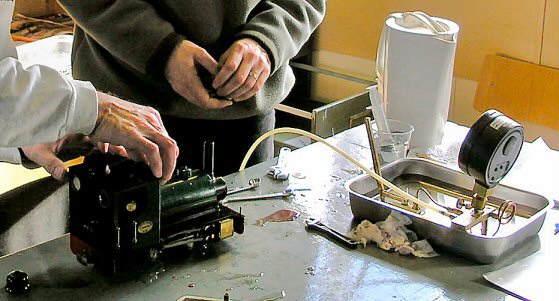 Boiler Test Day.
If you need a boiler testing then we are able to do this for you. We have one of the 16mm Association kits and a qualified tester.
We aim to be able to do tests at any regular Wednesday running session throughout 2019.
But you MUST contact Mike Riley to confirm.
E-mail: m(dot)riley(at)ntlworld(dot)com
Telephone: 01509 554574
Mobile: 07522 554446
---
Boiler testing is NOT compulsory at present but is recommended as good practice. See the 16mm association website for more details.
---