---
Butterley Garden Railway
---
Saturday September 22nd.
Fish & Chip Supper (for BGRA Members ONLY). Order will be placed at 5:00PM, giving time for everything to be fried, sit down to eat 5:30PM approximately (This date has been altered recently)
---
Wednesday 10th October.
Autumn Twilight Run. Our 2nd evening run for 2018. Running starts at 12.00. You can order Fish & Chips if you're here by 5.00. It should be dark before 6.00 and we can run as long as we like.
---
Sunday 2nd December.
Christmas Party (for BGRA Members ONLY) Commence at 3PM, food provided, nearest and dearest welcome. A list will be put out purely so food quantity can be estimated.
---
Future Event Date Unknown.
Tornado's visit in April 2018 was postponed due to the failure of Tornado at Peterborough but they have promised to visit later. If this happens then the BGRA will support the event.
---
We also support shows and exhibitions whenever possible.
---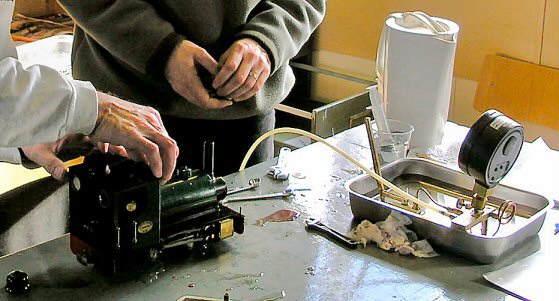 Boiler Test Day.
If you need a boiler testing then we are able to do this for you. We have one of the 16mm Association kits and a qualified tester.
We aim to be able to do tests on the first Sunday of each month and at any regular Wednesday running session throughout 2018.
But you MUST contact Mike Riley to confirm.
E-mail: m(dot)riley(at)ntlworld(dot)com
Telephone: 01509 554574
Mobile: 07522 554446
---
Boiler testing is NOT compulsory at present but is recommended as good practice. See the 16mm association website for more details.
---